Looking for a simple but stunning visual birth plan? We've got just what you need!
Visual birth plans are becoming more and more popular and for a good reason.
They make planning your birth easy, fun and super simple to communicate with the rest of your birth team.
Plus you get a beautiful keeps sake afterward. (Seriously, some of these are that really pretty!)
Why Choose a Visual Birth Plan?
From a nurses perspective, no one wants to read a 10-page detailed document to figure out what type of birth their patient wants…
I mean, would you want to read that on top of trying to take care of a laboring mama and monitoring a baby?
The easy solution, a beautiful and easy to read visual birth plan. Typically these are one-page documents with a few words that easily indicates what mama wants during her birth.
What pain interventions are ok and not okay.
What to do if X happens?
Who is participating in the important things?
What's ok to do for your baby after birth and what's not.
The great thing is that most of these are printable and you can make multiple copies to help keep everyone on the same page.
Where to find Visual Birth Plan Templates?
Since they are becoming so popular, you can find tons of visual birth plan templates all over the internet.
Here are a few gorgeous ones from all different prices ranges, and even a few free ones!
I will say, you get what you pay for. The free ones can be pretty, but require some work on your part. So if you have the time and your computer savvy, go for it!
The paid for ones tend to be gorgeous and custom made from details provided from you about your birth plan.
They then turn it into a pretty visual representation of your desired plan.
Here are a few of my favorite visual birth plans.
The Birth Plan Co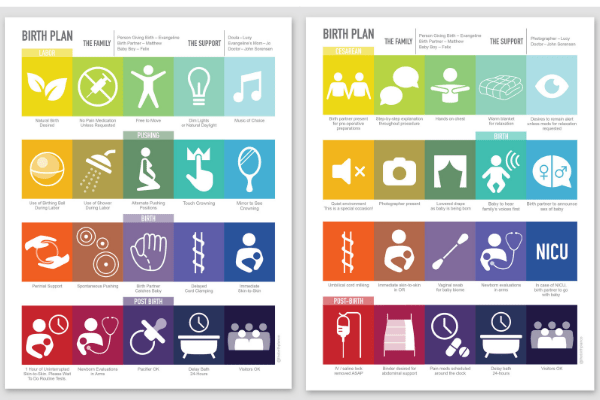 The Birth Plan Co offers some amazing birth plans in gorgeous color palettes. Not only are these birth plans pretty, but they can be as simple or as complex as you need them to be.
The coolest thing this shop offers, the ability to add any option you desire!
That means you can put in a custom request for specific icons, and she'll create them just for you, for free to add to your plan.
The plans range from an inexpensive basic plan, to more in-depth vaginal and c-section birth plans. There's even an "in case of c-section" birth plan.
So many options, and such a beautiful way to display them.
Check out The Birth Plan Co shop.
LaursenHolt's Visual Birth Plan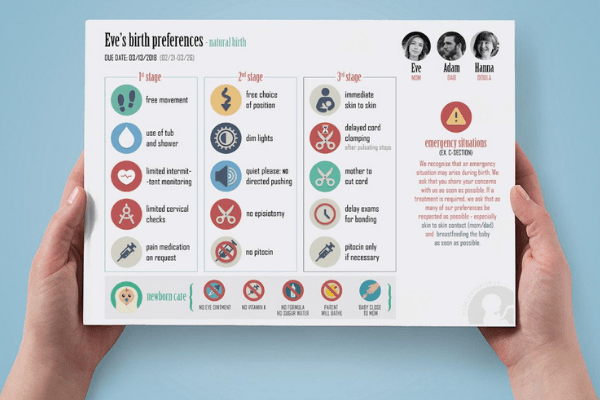 This beauty is another cool visual birth plan. Their website Visual Birth Plan is in the beta stages of creating an awesome online birth plan creator.
You'll be able to enter your birth plan and have it give you a custom plan!
For now you can get your own custom version of this birth plan at their Etsy shop: Laursenholt
They have rave reviews for their customer service!
Roxanne Marcouiller's Birth Wishes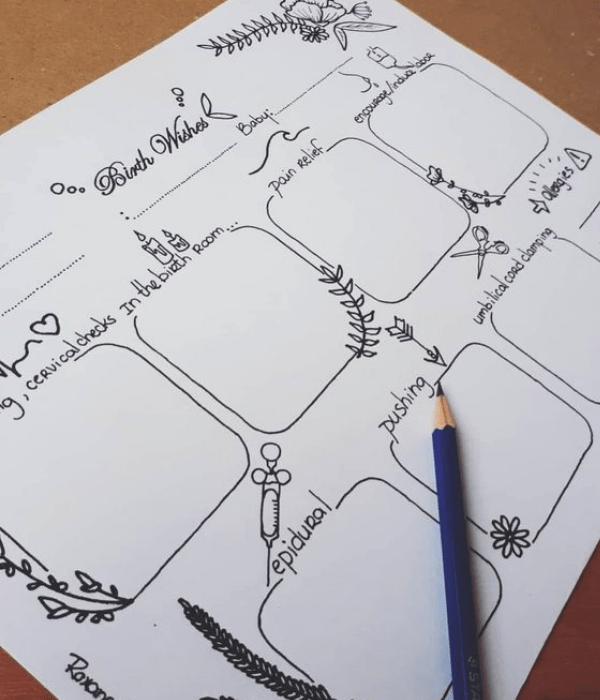 This particular illustrated birth plan is very unique. It's all hand drawn and offers you a great way to write all of your birth plan out yourself, but in a very pretty, easy to visualize way.
Her shop, Roxanne Marcouiller, has quickly become a personal favorite of mine on Etsy. If you check it out, you'll see why.
Her illustrations are gorgeous and offer a fun way to focus and reflect on the beauty of pregnancy and birth.
The way it works is pretty simple too. You purchase the coloring pages you like, print them out and color as you please.
This offers a very calm, relaxing experience for pregnant mamas to connect with their body and baby.
Check out Roxanne Marcouiller
Magnolia Mama Design's Visual Birth Plan

This visual birth plan is custom created by Magnolia Mama Design on Etsy.
Another great birth plan option.
You can message her and tell her what you want depicted on your birth plan, and she'll whip you up a great looking birth plan for a very reasonable price.
Free Visual Birth Plans
For a Free Visual Birth Plan you can find one on Mama Naturals Website.
In her version, you give them your email and they send you a downloadable Microsoft word version.
You can then use their icons to create your own graphic birth plan.
It's pretty good for a free version, but not nearly as pretty or complete as the options above!
If your on a strict budget though, it'll definitely get the job done!
Like these visual birth plans?? Which one is your favorite. Let me know in the comments!