I knew I was pregnant before that little test came back positive. How did I know so soon? Morning sickness…
How does morning sickness feel?
It depends. Truth is morning sickness can be a little different for everyone. Some people experience severe morning sickness, that lasts all day. (Yes, all day sickness) While others just feel a bit discomfort for a few weeks and then it magically disappears. Let's go over some of the basics.
How does morning sickness feel?
Morning sickness is defined as
Nausea in pregnancy, typically occurring in the first few months. Despite its name, the nausea can affect pregnant women at any time of day.
This is a pretty common experience shared by many women early in their pregnancy.
For me, experiencing morning sickness was very similar to experiencing food poisoning. Some days the nausea was fine. I would experience a small amount of discomfort, pop in a preggo pop and be just fine.
Other times, the nausea would make me so miserable I couldn't leave my bed for hours. Mostly when people thought having a smelly lunch was a good idea. We had to ban the cooking eggs in our house the entire first trimester of my pregnancy. (In fact, most cooking was banned.)
Even the slightest whiff of a boiled egg sent me scrambling to the toilet.
So we ate sandwiches. Lots of sandwiches (no egg salad) and fruit.
How to relieve the morning sickness
There are lots of ways to help relieve the morning sickness and make your first trimester much more pleasant.
Some of our favorite morning sickness remedies are simple but they work!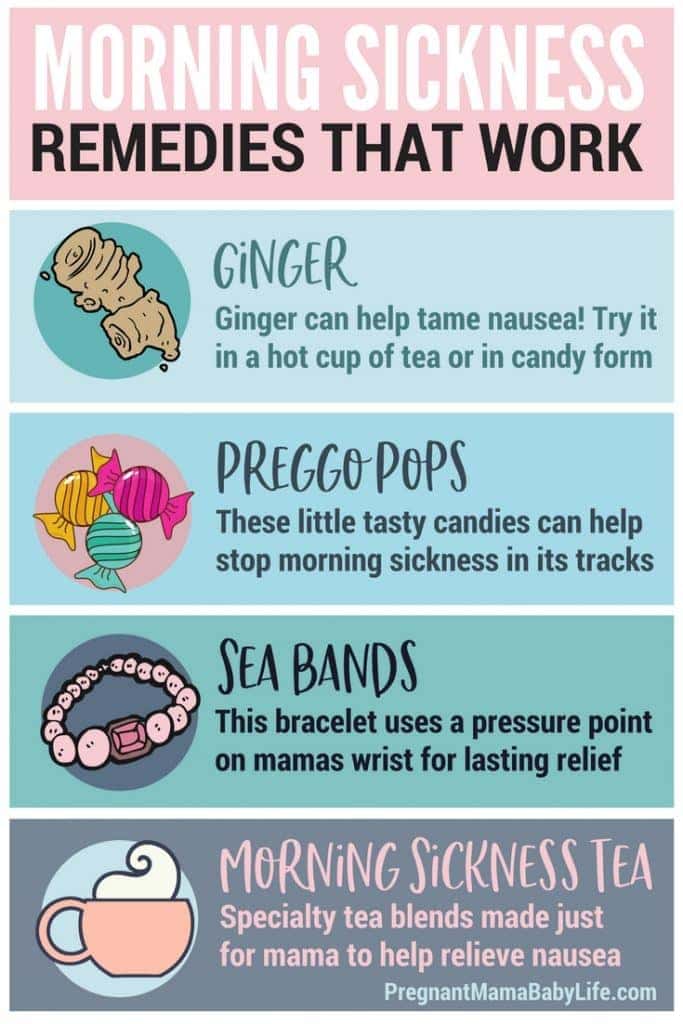 Ginger
Ginger is a tried and true remedy for nausea. It's gentle on the body, and good for you as well.
A warm cup of ginger tea can be soothing, but for a quick and easy fix you can try these little ginger candies. They are easy to keep on you and help relieve nausea in two ways.
First, simplly sucking on any candies can help squash light nausea pretty quickly, but the ginger in these little babies kick in once in your stomach to help keep morning sickness at bay.
Preggo Pops
I personally can't stand ginger. But this preggo pop candies were amazing! I kept them on me at all times, and sure enough they worked 95% of the time. They work best when used at the very first signs of nausea.
I will caution they are full of sugar, but they where worth it. I swore by these especially at work!
Sea Bands
This little bracelet works by applying pressure on a certain area of the wrist that is supposed to help reduce nausea. It's worked for a large (but not all) number of pregnant mamas.
It's inexpensive enough that if your miserable, it's worth a shot.
Morning sickness tea blend
This tea blend was formulated just for mama's with morning sickness! It's largely ginger based, but has a few other ingredients that are suppose to help stop the nausea.
Other Morning Sickness Tips:
Try eating plain crackers, it can often help settle the stomach
Get plenty of sleep. Rest in general helps your body to cope with everything going on during your pregnancy, including morning sickness.
Take note of when your taking your prenatal vitamin, and when you get your nausea. This can sometimes be the culprit. If your looking for a great prenatal without the risk of nausea I loved these ones.
If your worried about things that can make your morning sickness worse, check out these Mistakes that may Worsen your Morning Sickness.