Conquer Your Fear of Giving Birth
If you've been doing research on labor and delivery, odds are you have come across countless horror stories.
These stories can make you feel even more anxious about your upcoming delivery or even downright scared of giving birth.
It's human nature to want to share these. But truth is, many births go really well and without complications.
Many women give birth in a calm, loving environment, without fear, and without anxiety. This type of birth is totally possible, the key is to learn about childbirth and prepare well for it.
This post contains some affiliate links (which means if you make a purchase after clicking a link I will earn a small commission but it won't cost you a penny more)! Click here for our full disclosure. Thank you!
Preparing for Childbirth When Your Scared to Give Birth
One of the most important ways to ensure a great labor and delivery experience is to prepare well for childbirth. There are many ways to prepare yourself.
Most importantly, educate yourself on what to expect and create a great action plan for birthing!
Simply put, your action plan should be something along the lines of, learning as much as possible about pregnancy and birthing, how to minimize pain, and how to stay mentally centered.
You can do this by reading inspiring childbirth books, watching youtube videos (although make sure they are inspiring or informative!) and taking a prenatal course.
1. Find Good Education on Childbirth
If you're a reader there are many fantastic books on birthing! My personal favorite is Ina May's Guide to Childbirth.
It's focused on natural childbirth and written by "the mother" of midwifery. She is very blunt, and the book is full of very detailed photos of women birthing.
If these kinds of things bother you, this book is probably not for you.
There are other great books out there too though.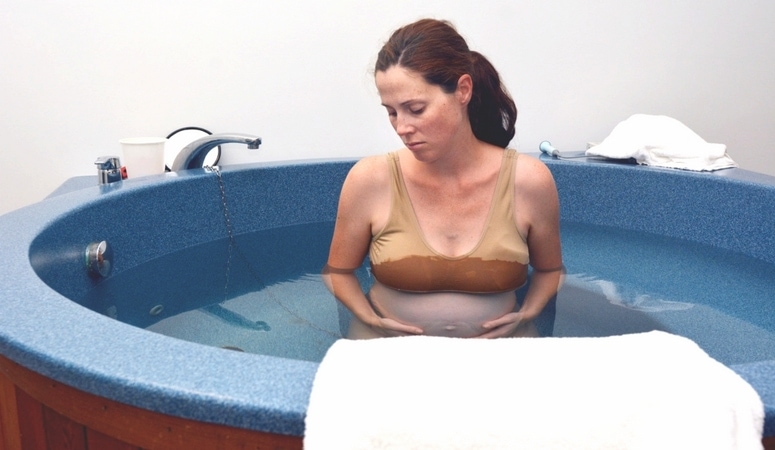 2. Take an Awesome Course
A big priority before birth should be finding a great childbirth course. It may even be a requirement at some birth centers if it's your first birth.
It's for good reason too. Finding positive information on birth is essential to start getting your mind wrapped around having a positive experience.
In the past, women usually had to go to a hospital to get good information through a course.
This is still a great option if your hospital has childbirth classes offered that fit you and your partner's schedule.
Make sure when choosing a class you find an instructor who can share the positive aspects of giving birth as well as provide pain management techniques and other methods for reducing your fears.
One of my favorite birthing courses focuses on stopping the fear of birth and reducing the pain. I went through this whole course myself, and cannot rave enough about it. You care read my full Kopa Birth Class Review here.
By educating yourself on everything that can happen during childbirth, you can better manage your fears.
3. Create a birth plan
Creating a birth plan will help you take control of your birth and put you in the driver seat.
By making a plan of what you do and do not want during your birth, other things start becoming more important to you.
For example, it was so important to me that I got to have my uninterrupted golden hour with my baby. I wanted him directly on my chest after birth.
Once I created a birth plan and added that in, I felt a little better. Once I had written out and was able to see my plan, my fear decreased substantially.
Once I had a plan, I felt more ready.
If you don't have a birth plan of your own yet, you can find some awesome birth plan templates here.
4. Condition your body
Another way to prepare for childbirth is to condition your body. Exercising regularly is a great way to prepare your body to handle labor and delivery.
Just make sure to talk with your doctor or midwife about which exercises are ok for you to do.
Also, make sure to get plenty of sleep, take your prenatals and eat nourishing foods. By preparing your body well, you will be to handle the physical and emotional demands of labor.
5. Find Your Labor Support
Having a good support system is crucial to a good labor and delivery. If you have a caring and supportive partner or spouse, they can greatly aid you during childbirth.
Make sure your partner is well educated about what to expect during labor. Ideally, they should attend childbirth education classes with you or go through the online class with you.
If you don't have a built in partner, enlist the help of a close friend or family member who can be with you during your labor. Your person or "people" need to be caring, supportive, and people you trust fully.
For my first labor, I had envisioned just me and my husband in the labor room. When my mother and sister arrived I said they could come in knowing they were in the lobby.
I cannot tell you how glad I am that things did not go according to how I envisioned.
I was in a birthing center, and my labor had been long. 17 hours of hard labor, and my husband was there supporting me 100%.
He helped reduce my pain by pressing on my hips during each contraction.
As you can imagine that's hard work for him after that many hours! He also forgot to eat and drink, which left him exhausted. By 2 am he nearly passed out.
My sister and mother were able to step in and help. They were kind and gave me lots of words of encouragement.
Having my family there to make sure I sipped on water, felt great and excited about my baby that was coming and even simple comforting techniques like a cool rag on my forehead made all the difference.
I was able to joke in between the contraction with them about how this was the most attention and doting on I was ever going to get in my adult life.
These are the kind of people you need on your support team!
Another great person to have on your support team, is a doula. A doula is a person who is trained specifically to provide support and help to women during labor.
She provides continuous support that includes emotional support, encouragement, and education about childbirth. If you can afford it, hiring a doula to help you will be one of the best investments you make!
If I ever go for round three, I know is on my definite list!
6. Affirmations
Lastly, I suggest trying birth affirmations. They are an incredibly powerful tool to help you adjust your mindset.
Since fear lives in the mind, you must use tools like positive affirmations to move it aside and make room for healthier emotions and thoughts.
You can create your own simple affirmations on index cards, or you can buy pretty ones.
I created a pack of coloring pages with birth affirmations. You can find them in the Pregnant Mama Shop.
(**P.S. for a very limited time you can get the coloring book 50% off with this code: nofear50)
It's a great way to focus on the positive while coloring and letting the affirmation really sink in.
To use birth affirmations well, find a few that really spark something inside you or bring you thoughts of peace and strength.
Then post them where you will see them every day, and reflect on them. Every. single. day.
Doing this will help rewire your thoughts into positive ones, and give you an arsonry of strength to pull from when you start to feel anxious or fearful.
7. Talk with your provider about your fears
If you feel yourself being anxious or fearful of specific aspects of labor or birth make sure to talk to your doctor or midwife about them. This helps both of you to understand what you should expect from your labor and delivery.
By discussing your fears with your doctor, you may be able to discuss ways to manage that fear.
Conquer your fear
The thought of giving birth causes many women to experience fear, but giving birth doesn't have to be the scary experience you fear.
With the right education, preparation and support during labor and delivery, giving birth to your baby doesn't have to involve fear at all.
Proper preparation can give you the positive, happy childbirth experience that you deserve to have.
Read my review for my favorite online birth course here! It's all about kicking the fear to the curb, and reducing your pain!
[convertkit form=772034]