Scar Tissue from C-Section Causing Abdominal Pain Years Later? Here's How to Help
Today's post is all about dealing with scar tissue from a C-section that causes abdominal pain, even years later.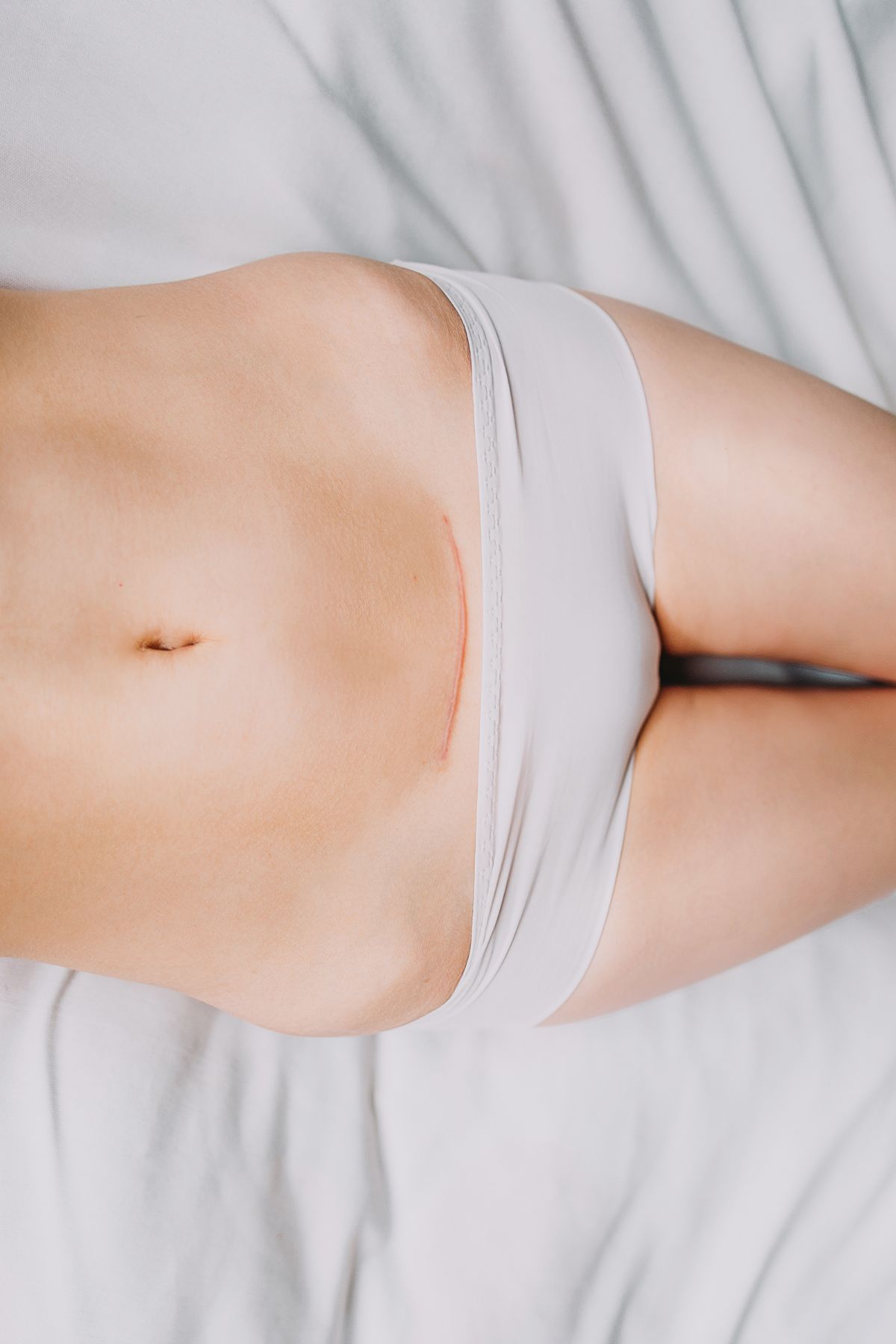 In the last two decades, cesarean surgeries have skyrocketed. Some of these C-sections are for health reasons while others are due to convenience.
In most cases, a cesarean delivery isn't the woman's choice, but the only way she can safely deliver her baby.
Either way, going through a cesarean surgery can be rough. It's a major surgery and can leave a large surgical scar.
There are lots of other uncomfortable things that happen after, like leg and feet swelling after a C-section.
But there are other things too. The incision from the C section cuts through your core muscles and uterus and can causes some women to experience pain in their abdominal area after surgery.
Some women even struggle with c-section scar pain years later.
And, while it may be frustrating to deal with the pain, there are things you can do to help minimize the scar pain in the long run and help ease the chronic pain.
This post may contain affiliate links. This means that if you click on a link and make a purchase, we may get a small amount of that purchase with no cost to you. I only promote products I love and will think you will benefit from too! You can read our disclosure here.
Common C-Section Scar Issues
With over 33% of births ending in surgery in 2012 alone, it is no wonder that so many women are dealing with painful scar tissue after a c-section.
Problems with c-section scars have become quite a topic of great concern.
Some women even report having abdominal pain years after their c-section.
The most common way for physicians to perform a cesarean is to do the bikini cut which is an incision right above the bikini line in a horizontal manner.
As with any incision or injury to the body, it can cause scar tissue.
The outward scar is just the tip of the iceberg for many women.
Adhesions After C-Section
After the c-section, some women can develop excess scar tissue or hypertrophic scars.
They have trouble bending, stooping or picking up their newborn from the pain and discomfort the scar leaves.
Others may feel the scar area is tender to the touch and may sometimes pull on the muscles nearby and cause lower pelvic pain.
Some women even find themselves constantly bending forward because of the discomfort, causing lower back pain.
Another complication that can be even worse, is when the ligament from the labia that crosses over the pelvic brim gets caught up in the scar tissue.
This can cause great discomfort and even debilitating pain when changing positions from sitting to standing.
This is due to adhesions after a c-section, which is basically internal scaring.
What Are Adhesions?
Adhesions are very strong strands of collagen tissue that can form after your surgery.
These strands can adhere your tissues and organs to each other on the inside of your body, almost like glue.
This is what causes much of the pain and discomfort even years after your c-section.
Other Complications of Adhesions After C-Section
Complications of adhesions after a C-Section can include:
Irritable bowel syndrome
Constipation and digestive problems
Painful intercourse & bowel movements
Infertility
These types of complications occur because scar tissue and adhesions pull on the abdominal cavity and affect the surrounding organs.
Why Does All of This Happen?
Well, it helps to understand scar tissue. When an incision is made, scar tissue forms where the other tissue was.
Scar tissue is not as elastic and is inferior to the normal tissue.
Scar tissue can attach itself to organs and cause other problems.
While it is made of collagen, it is not as flexible.
How to Help Your Scar?
Recent studies have shown that massage and manipulation of the scar tissue supports healthy healing.
Many physical therapists now are treating women who have had a cesarean to help them heal quicker with better results.
With rehabilitative care, your cesarean scar can be healthy and pain-free in a short time.
What's the Downside?
Unfortunately, the massage and manipulation that helps heal the cesarean scar can be quite painful.
Because there is limited blood flow in the scar tissue, any type of manipulation can be really painful.
Physical therapy can include pushing, pinching, massaging, rubbing and anything else that gets the area to move and blood to circulate.
Because the scar tissue already hurts, this can cause many women to shy away from the treatment.
However, the gain is worth the pain in most instances.
How can I help at home?
Healing from your cesarean section is important and your home care regimen is key to your success.
Don't be afraid to touch it at home and get to reacquaint yourself with your body.
Of course, let it heal for the first six weeks before touching it so it doesn't get infected.
But home manipulation can help with the healing process too. Things like massage can help with numbness around the scar and help relieve some of the pain.
When to Start Massage?
It is a good idea to begin your mobilization and massage healing as soon as possible for greatest results.
Anytime between six and eight weeks post-partum is a good idea, but it's always good to consult with your doctor and have a plan.
Also, it may be good to have a friend go with you so you have moral support to push you through the pain.
If you want to get started with massaging your scar tissue from home, here's a short video on how you can massage your c-section scar tissue yourself.
Remember, you can heal nicely from a cesarean with a little help.
Just be gentle on your body and listen to its cues.
By taking the time to heal and massage your scar correctly, you can avoid complications later on in life.
Healing Your Post Baby Body
If your trying to heal your body after baby, strengthen your core and even lose some of that baby weight, you should try my friend Katies awesome program for moms.
My abdominal muscles were damaged after pregnancy, and this is helped me see real results.
She's a mom who had dealt with these struggles too, and her mission is to help moms going through the same problems see real results.
Check out The Postpartum Cure. You won't regret it!