Fun indoor activities that promote toddler development
Now that the cold season is coming up, getting outside to play isn't as easy as it usually is! This doesn't mean you and your toddler can't have some fun together. These indoor toddler activities are perfect for when the weather is just a bit too much, or your little one is feeling under the weather.
Baking
Bake some cookies with your little one! Toddlers love anything hands on, and especially love being mommy's little helper. You can talk about the different ingredients and the actions you take while making your yummy baked goods.
State the steps out loud while you do them. Things like, "ok poor in the flour and mix it up really good. Now we're going to stir in the milk like this."
This is great because it helps develop motor skills right along with verbal skills. You can use a shorter table so that your toddler can reach, or use a kids safety reach stool like this one.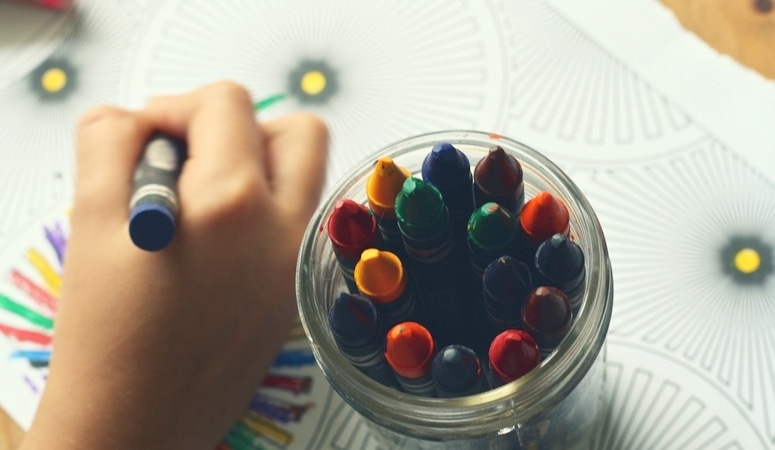 Arts & Crafts
Time to break out the construction paper and glue sticks! You can cut out shapes out of colored paper and discuss them with your toddler. Explain the color and shape of each one while they get to glue them down to a different piece of paper, or even a poster board they can hang in their room after!
You can also get finger paints which help to develop motor skills. Make sure they are non-toxic. There are non-toxic paints made from organic materials, or you can make your own like these ones.
You can always resort to crayons of course! I like these non-toxic ones for little hands.
Make a box fort
I LOVE box forts. You can make them super simple, or super extravagant. There are so many cool inspirations out there on the internet. I love stashing a bunch of boxes and when we have a good amount, breaking them out for fort building. All you really need is one though. Get yourself a box cutter and some duct tape and your good to go. (Obvious parenting tip: Keep the box cutter away from little hands.)
My toddler loves when we build a box fort. He mostly likes banging the outside with his "hammer" and fixing it. You can go all out and take those paper shapes from craft time and glue them to your house to make them "pretty."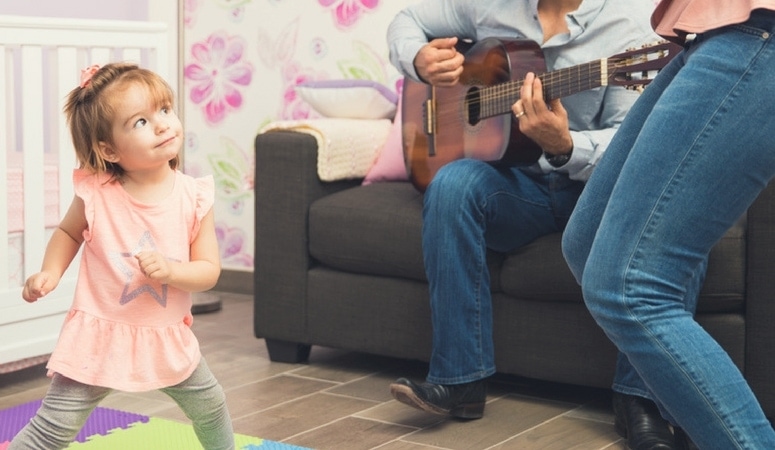 Dance!
Dancing is a great place for all that pent up toddler energy to go. Put on some great toddler music and just let your body do its thing! If your not a dancer, I'm sure your toddler's moves will inspire some of your own. And don't roll your eyes at all the toddler music out there.
There's some good stuff that your kiddos and you can enjoy together. My personal favorites include this album by Elizabeth Mitchel and nearly anything from Putumayo Kids (they pride themselves on eclectic, worldly music.) We listen to this one every night during our family clean up time.
(You can sign up for a free trial of amazons music unlimited to test out a few CD's to see if you would want to buy them, or just continue a subscription after your trial and not worry about a physical CD.) Of course Youtube works well too! The ads just drive me a little batty after a bit. Music is a MUST with toddlers around. (Great for avoiding screen time, but still keeping them occupied.)
Try some toddler games
This can be a simple or complex as you want to get. A fun game that we've played with our toddler is "hide and seek." We used a few of these glow sticks and popped them into old water bottles and hid them around the living room at night. It was a lot of fun to try to find where they were with only a slight glow fo color. (You can hide them adjusting for age level.) This is a fun game older kids enjoy too if the bottles are hidden better. You can name the colors as you find them for fun learning.