Breast Milk Popsicles for Teething Babies
Looking for a healthy, tasty treat for your little one? Try making one of these easy breastmilk popsicles. I love using breastmilk popsicles for teething, and it's an easy way to keep baby busy and entertained.
This post contains some affiliate links (this means if you make a purchase after clicking a link I may earn a small commission but it won't cost you a penny more)! Click here for our full disclosure. Thank you!
Uses for breast milk pops:
Soothing pain in teething baby
Fun activity for baby
Good use for extra breastmilk
Nourishing treat for younger babies and toddlers
What age can babies have breastmilk popsicles?
Babies aren't supposed to start any foods until the age of 6 months according to the world health organization. Breast milk popsicles are a safe alternative when you're excited to give your baby a new type of food, without the risk of damaging their gut.
According to Cleveland clinic health essentials
Starting solids too early should be avoided because solids aren't as nourishing as breast milk of formula, they are harder to swallow and some babies before 6 months of age aren't able to swallow the food properly, and solids can increase the risk of health problems such as allergies, eczema or chronic diseases such as diabetes or celiac disease.
But breast milk popsicles can be given much earlier. Our suggestion is that if baby can hold the popsicle and eat it by themselves, it's probably ok. What's not suggested is holding the popsicle in babies mouth for them, as this could potentially cause skin burns around the mouth from the ice.
How to make breastmilk popsicles
A good breastmilk popsicle for babies is different than making popsicles in a regular popsicle mold. You want a mold that is shaped for babies mouth. This means finding a mold for mini popsicles.
When choosing a mold for you popsicles you want short round stubby popsicles. The Nuby Garden Fresh Fruitsicle Frozen Pop Tray is a great option for breastmilk popsicles. It offers the perfect shape for babies mouth. It's wide enough the won't gag on it but shaped small enough to fit their mouth.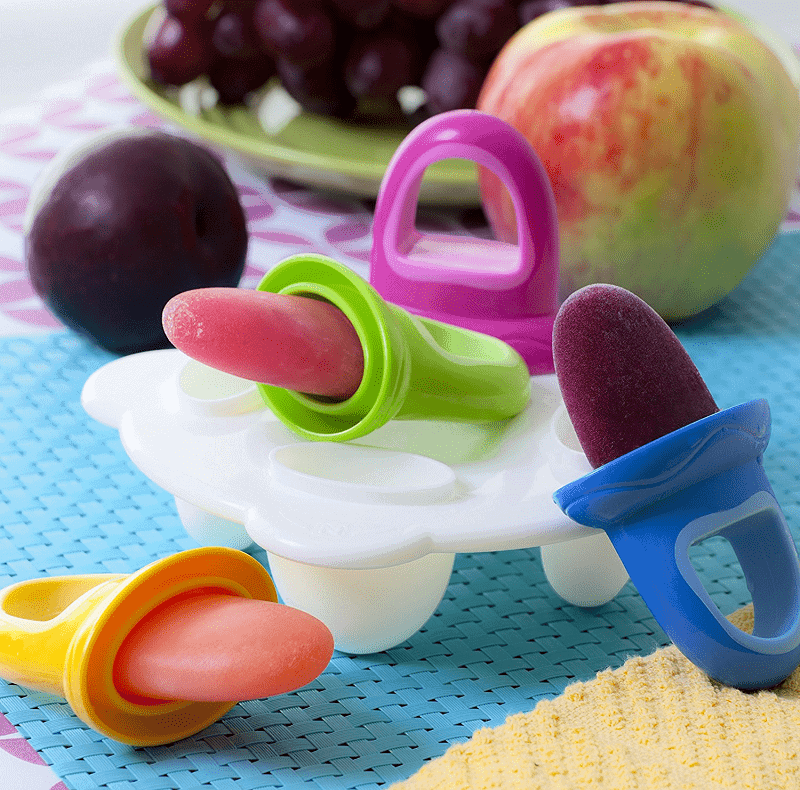 Another great breastmilk popsicle maker is the Munchkin Click Lock Fresh Food Freezer Pops. It's a great popsicle mold for babies. This one allows for 6 popsicles at a time instead of four.
To make a breastmilk popsicle using a mold simply follow these steps:
Express fresh breast milk (or use breast milk from fridge)
Pour into popsicle mold leaving enough room for expanding liquid
Freeze for a couple hours
Grab a pop and let baby enjoy
If you have trouble getting the popsicle out of the mold, run it under warm water for a few seconds. It will loosen up the popsicle and it will pop right out.
How to make a breastmilk popsicle without a popsicle mold
Using a baby mesh feeder
If you don't have a popsicle mold but happen to have one of those baby mesh feeder, you can improvise and make a few small ice cubes of breastmilk. You can use a regular ice cube tray, but only fill the individual squares 1/2 way.
Then pop the frozen breast milk in the mesh feeder. Some babies like this method a lot more than the baby popsicle molds, but every baby is different.
Using a pacifier
If you don't have a baby mesh feeder, you can try making your own baby popsicle mold using a pacifier an old bottle nipple, or even a small container that would be good for baby's mouth shape. Simply fill the container and pop in the pacifier and freeze.
In my personal experience, this isn't as easy for baby as the popsicle molds, but it can help a teething baby in a pinch.