The Best Stocking Stuffer Ideas for Babies and Toddlers
These are awesome and easy items that make the perfect stocking stuffers for babies and toddlers.
Some are useful and others are fun, I try to keep a good balance of the two.
To make it easy, all the links go to Amazon and are rated well. If you have prime, then great! You get free shipping.
If you don't, you can sign up for a free 30-day trial. A perfect amount of time to get your gifts shipped for free.
This post contains some affiliate links (which means if you make a purchase after clicking a link I will earn a small commission but it won't cost you a cent more)! You can read our full disclosure here. Thank you!
Best Stocking Stuffers for Babies
When choosing items to put in babies stocking make sure to get the most bang for your buck and put cute items that are also functional. This will make the stocking stuffers feel special without bringing unnecessary baby items that will just get tossed later.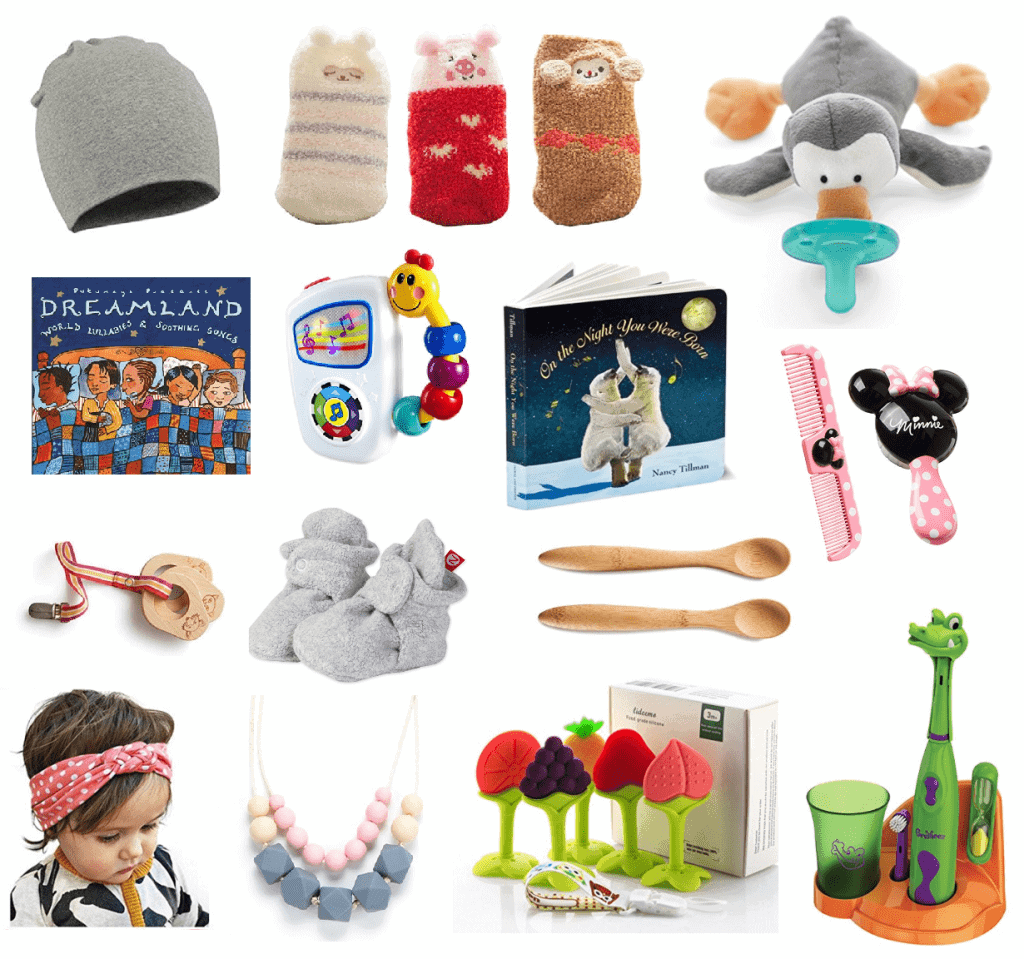 Pacifier with a lovie attached: This pacifier is supposed to be better for babies teeth and comes with an adorable little-stuffed animal attached. They have dozens of animals to choose from. The weight of the lovey help to keep the pacifier from falling out, and gives baby something to grip on.
Fun socks: There's something so special about little baby feet, might as well give your little one something super cute to put on them.
Minnie Mouse Brush & Comb: This adorable little brush and comb set is perfect for baby's hair, as the brushes bristles are super soft, and the combs small enough to be useful.
On the night you were born baby book: This little book gives praise to your littles ones entrance into the world. It's a sweet read you won't mind reading to your snuggly baby night after night.
Bamboo Teether Blocks: These are organic and all natural. You won't be left wondering if what your baby is gnawing on could potentially have nasty chemicals.
Pretty teething necklace: Ok, technically mama is the one wearing this fashion statement, but it's benefitting baby so that counts right? I have one of these and love it.
Fruit Shaped Silicon Teethers: This cute little fruit shaped teethers are the perfect size for babies stocking.
Bamboo baby spoons: These little spoons are way better for baby and the environment than those flimsy plastic ones, but not quite as hard as the metal ones either.
Cozy Baby Bootie: Cute and cozy little booties.
Baby Music Toy: Both my babies loved this one. Plays classical music that's pleasant, and soft enough it's not disruptive. A perfect stocking stuffer that's a win for mama and baby.
Baby Beanie: Cutest beanine you've ever seen.
Organic Montessori wooden toys: These little wooden toys are great stocking stuffers baby will love. They are a great toy that will last well into toddlerhood and early preschool years.
Headband Bow: Your little girl won't need much hair to still sport a cute and fashionable hairdo.
Dreamland CD: I have personally purchased this CD twice. If we lose it again, it will purchased once again, it's that good. The songs are all lullabies from different cultures in different languages. We play this in the evening during our wind down time, and it helps put our little ones in the sleepy time mood. A perfect baby stocking stuffer.
Best Stocking Stuffers for Toddlers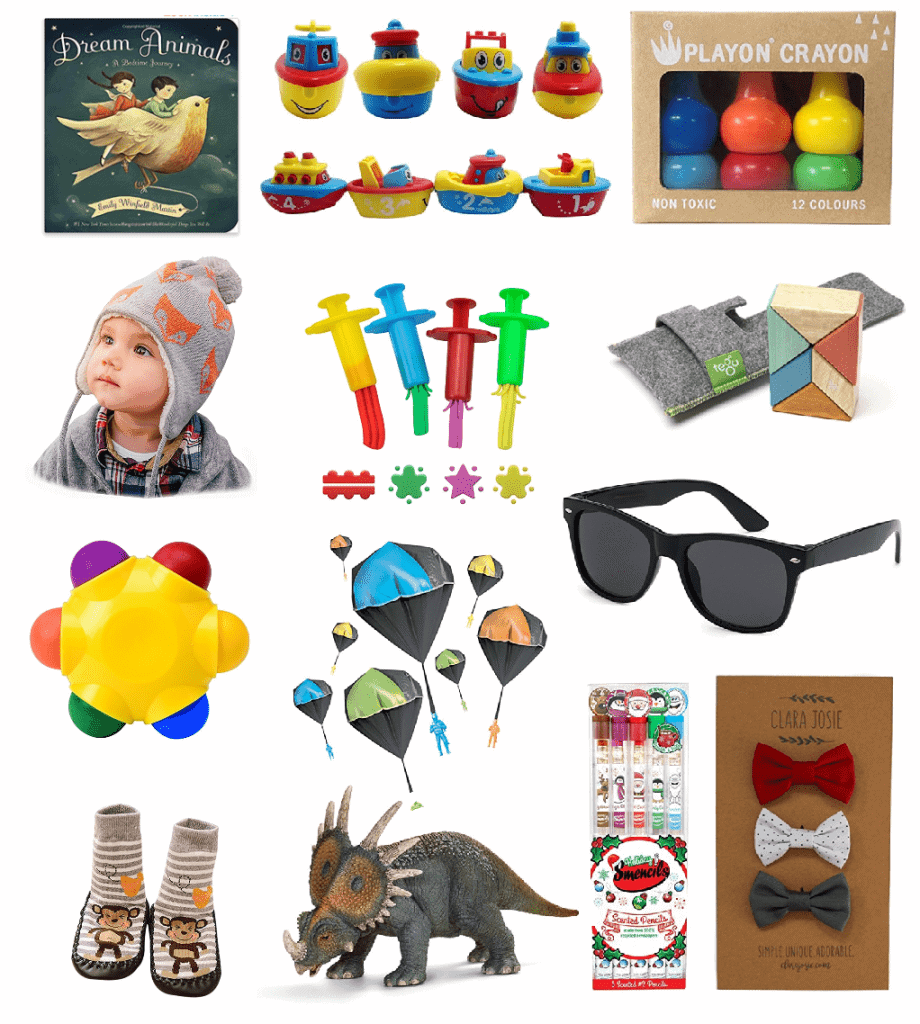 Easy-Grip Toddler Crayons: These crayons are the perfect shape to help you toddler get a better grip and learn dexterity while having fun coloring.
Mini-Coloring Book: Of course, you'll need a fun little coloring book to go along with your new special crayons.
Multicolor Bath Crayon: Make bath time a little more fun with this colorful all in one bath crayon.
Magnetic Bath Boats: Another way to make bath time more exciting are these little magnetic boats. They are super cute and your toddler will love watching them connect and disconnect with each other.
Dream Animals Board Book: This is our favorite bedtime book. My toddler especially loves pointing out all the intricate details in the beautiful pictures and, unlike other board books, there's so much to talk about on each page that it's not the same old story night after night.
Warm Fox Toddler Hat: This hat is just too cute.
Magnetic Wooden Block Set: This cute little stocking stuffer is the perfect little toy set for on the go, comes with a travel bag too!
Toddler Sunglasses: My toddler LOVES putting on his sunglasses. They are fun, fashionable and most importantly protect their sensitive little eyes when spring time rolls around.
Bow Clips: A classic baby girl stocking stuffer.
Playdoh Tools: Playdoh tools make playing with playdoh a whole new ball game.
Parachutes: A fun lesson in gravity and physics.
Holiday Smencils: These pencils are a fun way to learn about different smells, while also being very functional.
Dinosaurs: Because how much fun is it to pull a dino out of your stocking!
Bubbles: These are THE best bubbles. Perfect for the toddler stage because you just wave the wand around and out come super big bubbles. No more exhaustive blowing! I have no idea why these weren't available when I was a kid.
Slipper Socks: No more wipe-outs on the kitchen floor.
Gator Electric Toothbrush Kit: This little toothbrush station will make it easy to get them to brush their teeth. Plus it has a little timer to show them how long they should be brushing.
When we stuff stockings for the smallest ones in our house we put a mix of small toys, necessities for the year (Like fun socks and toothbrushes) and healthyish snacks, like tangerines and packs of dried fruit.
We do stockings first, so I like to make them super interesting to get the kids extra excited about them. This can be as simple as a fun dinosaur peeking his tail our, or a small stuffed animal with just the eyes peeking over the top of the stocking. Gets them excited every time!
Related Articles
23 Genius Natural Teething Remedies To Nip Baby's Pain Now
Fantastic nontoxic baby toys
Baby Oatmeal Recipe to Help Your Baby Sleep Through the Night
The Best Baby Carrier Covers for Winter or Rainy Days
Easy Ways to Help Your Husband Bond with the New Baby
How to Get a Flat Stomach after Baby