Baby Oatmeal Recipe to Help Your Baby Sleep Through the Night
Today we have a fantastic recipe perfect to add to your baby's bedtime routine! It's a banana oat recipe with a special ingredient that is true to help calm baby and get him ready for bed!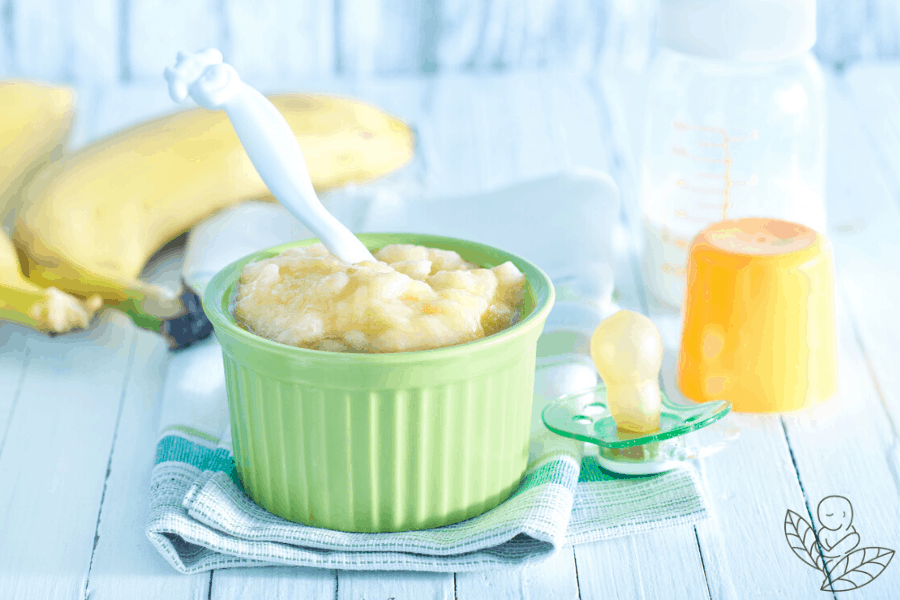 This easy and tasty baby oatmeal recipe is made with 3 simple ingredients that are sure to help your baby sleep better through the night.
This recipe is better for babies who have been eating solids for a couple months.
It's made with ingredients that help babies sleep better and put them in a relaxed state before bed.
So whether you are dealing with an overtired baby or trying to come up with a soothing bedtime routine, this is the recipe for you!
I made this exact recipe often for my rough sleeper and it always helped him rest better, which is how I got more sleep as a new mom too!
This post may contain affiliate links. You can read our full disclosure for more details.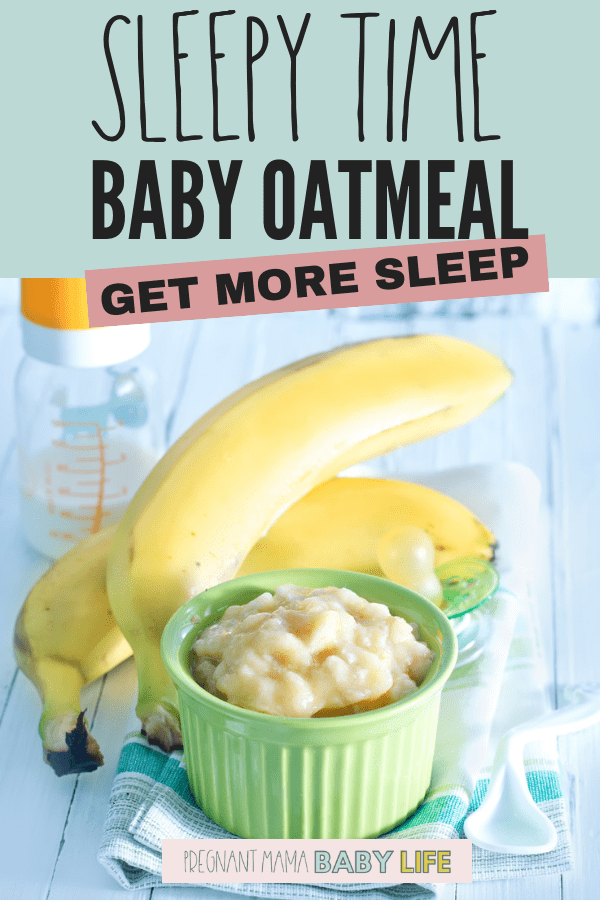 Sleepy Time Oatmeal Ingredients
For this baby oatmeal recipe, you'll need only a few ingredients.
If you only have a couple of the ingredients, I'd still go for it and make it! The oats with the banana or oats with chamomile will still have a great calming effect!
How It Helps Your Baby Sleep
This baby oatmeal recipe is packed with healthy, effective, but not too strong foods that help induce sleep!
These sleepy time foods are oats, bananas and chamomile!
Bananas are a sleep-promoting food
Bananas are a special food to help your body get ready for sleep. This makes it a perfect treat for children and babies before bed.
Seriously, we always have bananas in our house, and the older kids are always getting them as a pre-bedtime "treat."
They are high in potassium and magnesium both of which help relax your muscles and nerves.
This naturally helps the body feel calm and sleepy.
Also, this study shows that banana's help your body produce melatonin, the hormone that makes you feel sleepy.
So again, bananas help relax the body and get it primed to produce lots of sleepy time melatonin!
Chamomile is a safe, calming herb
This recipe calls for a small amount of chamomile tea.
Chamomile is a nervine, which is something that helps relax and calm the nerves.
It's an old remedy that has been past down through the generations.
This literature review states
"Chamomile is widely regarded as a mild tranquilizer and sleep-inducer. Sedative effects may be due to the flavonoid, apigenin that binds to benzodiazepine receptors in the brain"
We have used chamomile in our house long before our children came, and we started giving them chamomile as soon as teething pains started.
Making a big pot of chamomile tea at night is a great family tradition to help everyone feel more relaxed and calm for bed.
With this oatmeal recipe, you can easily incorporate it into your baby's nighttime routine as well.
I recommend using only organic chamomile in your baby's food and drink though.
The nonorganic teas are loaded with chemicals are not only harmful but can actually stimulate your baby, making them feel more awake.
Oatmeal for the Sleepy Time Win
And finally, this oatmeal recipe contains… oats!
Oats are another fantastic sleepy time food.
They are high in B6 (which helps reduce stress) and help the body produce melatonin (similar to the banana.)
So, you can each of the ingredients for this baby food was selected carefully and with lots of thought!
How to Make Sleepy Time Oatmeal
To make this make the baby oat cereal as you normally would, but instead of water, use warm chamomile tea. Then add a bit of mashed banana.
The chamomile adds a light sweetness to the oatmeal, and the banana makes it so sweet that any baby would love this, even without any kind of sweetener.
Yes, I tried it! And it was good.
This delicious oatmeal should help your baby sleep better through the night, plus offer a nourishing snack before bed.
Only give this recipe to babies old enough for solids. If your a breastfeeding mom, you can add a little bit of breastmilk to it if you like as well.
If you are nervous about using the chamomile, you can always just try the oats and banana.
It should still work great!
Yield: 1
Sleepy Time Baby Oatmeal Recipe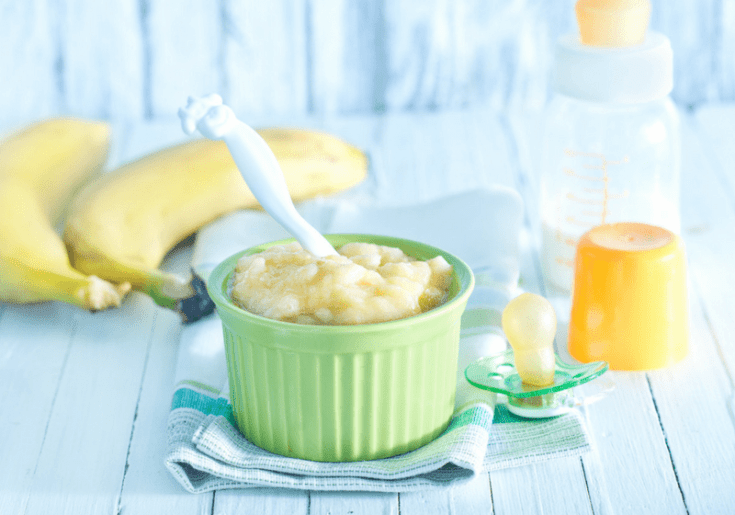 This yummy and simple recipe is best when given to baby a couple hours before bedtime. The ingredients help to support a calm and restful night sleep.
Instructions
Mix 1 serving of baby oatmeal with warm chamomile tea.
Mash in 1/2 of a ripe banana into the oatmeal.
Let the oatmeal cool to room temp and serve to baby.
Notes
Always check the temperature to make sure it's not too hot for baby. Chamomile is safe for babies, however some people who are allergic to ragweed can also be allergic to chamomile.
You can test for allergies by rubbing a small amount on babies skin the day before and watch for a reaction.
Nutrition Information:
Yield:

1
Serving Size:

1
Amount Per Serving:
Calories:

314
Total Fat:

5g
Saturated Fat:

1g
Trans Fat:

0g
Unsaturated Fat:

3g
Cholesterol:

0mg
Sodium:

145mg
Carbohydrates:

62g
Fiber:

8g
Sugar:

9g
Protein:

9g