In today's post, we are bringing you our stainless steel baby bottles reviews. We'll help you figure out which of these metal baby bottles are best for you and your baby!
If your looking for the best stainless steel baby bottles for your baby, we've got you covered.
Maybe you want safer alternatives plastic bottles or an eco-friendly way to reduce the carbon footprint of having a baby.
Either way, steel bottles are a great replacement for plastic baby bottles.
Here we'll go over the why stainless steel is safer, the features of the leading bottles, what they lack, and which one will be the best fit for you.
This post contains affiliate links. This means if you click and link and purchase, we may make a small commission at no extra cost to you. You can read our full disclosure here.
Why Get Stainless Steel Baby Bottles?
So why would some moms choose a metal bottle over plastic or even glass bottles?
Over the last few years, we have become more aware of the dangers that plastic can pose.
One thing that surfaced about plastic is the health risks of BPA (although things like PVC and Phthalates are issues too!)
Many plastic bottles are now made to be BPA free.
But since the toxic nature of BPA is still a somewhat recent discovery, it brings up the question of what else could be in plastic that could harm my baby?
Plus the environmental effects of plastic make is a not so great choice.
So glass and stainless steel are preferred materials.
Stainless steel baby bottles are fantastic because they are usually well insulated and will keep baby's milk warmer, longer.
It's easy to clean, very durable, and most are 100 recyclable!
Since glass is breakable, many moms choose steel feeding bottles just for the peace of mind.
---
Benefits of Stainless Steel Baby Bottles:
There are quite a few benefits of stainless steel baby bottles.
Easily avoid harmful toxins in plastic
More resistant to mold and bacteria
Requires less energy and resources to make metal bottles vs. plastic
Some of these bottles will last a lifetime, especially the convertible ones!
Basically, they are a less toxic baby bottle option, that is also better for the environment and cuts down on waste. Win win win.
---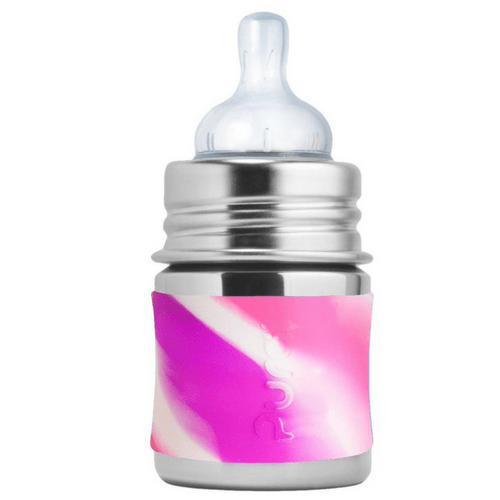 The Pura Kiki Stainless Steel Baby Bottle Review
Our Rating: ★★★★☆
Price: $$$
The Pura kiki baby bottle is 100% plastic free, and the non-metal parts are made with medical grade silicone.
It's also our favorite stainless steel baby bottle. It has the most features, but it's also the priciest.
The cool thing about this bottle is that it grows into a sippy cup, and then even a stylish cup for adults.
You just have to change the top out. It also fits in most cup holders, unlike some of the other metal baby bottles on this list.
Here are our favorite things about this bottle:
Keeps beverages warm or cold (with ice) for up to 24 hours.
Vented, wide-neck nipple is designed to reduce colic in babies & support breastfeeding.
Fits in most cupholders, both car and strollers.
Internal volume markings to see how much milk is in the bottle.
Silicone travel cover for easier grip (Comes in pretty colors too.)
Warms quickly in bottle warmers.
One downside to this bottle that seems to bother a lot of moms is that it is on the heavy side and some babies have trouble holding it themselves. My concern would be with getting knocked in the head with this thing, but my babies have all been throwers.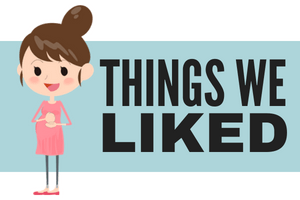 100% plastic free
Designed to reduce colic
Fits most cupholders
Warms quickly in bottle warmer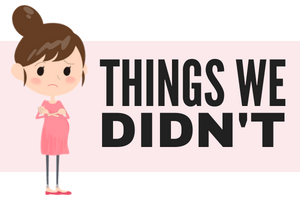 Higher price
Heavy for babies
---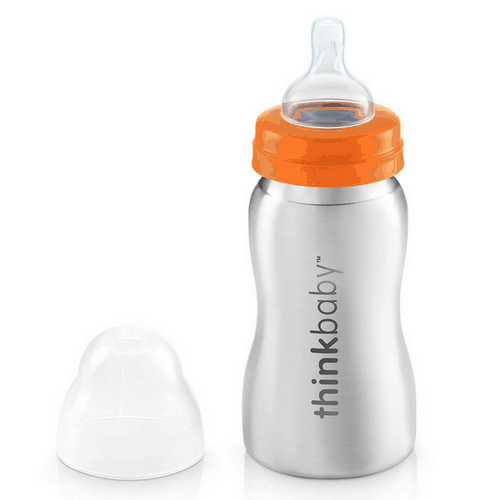 The thinkbaby Stainless Steel Baby Bottle
Our Rating: ★★★★☆
Price: $$
The thinkbaby bottle is another great metal baby bottle.
It's free from BPA, phthalates, nitrosamines, lead, PVC, PET, and biologically harmful chemicals.
They also have a model of the bottle that comes with a handle, however many moms complain that when added to the bottle, the handle causes it to leak. Which is a shame, because other than that, this bottle is spot on.
Our favorite things about this steel bottle:
A one-piece design to make cleaning easy, no extra parts.

Anti-colic nipple to reduce of gas and spit ups.

Can convert into a sippy cup or thinkster straw cup
I love thinkbaby products, but one thing I am going to point out about this bottle is the plastic lid.
Unlike the Pura Kiki, it's not 100% plastic free. If that's an issue for you, this is not the bottle for you.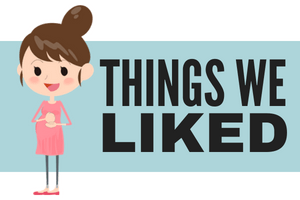 Easy to clean
Designed to help colic
Can convert into a sippy cup and straw cup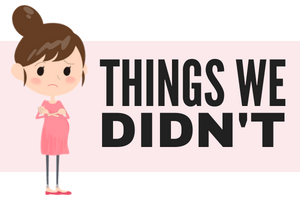 Add on handle can cause bottle to leak
Not 100% plastic free
---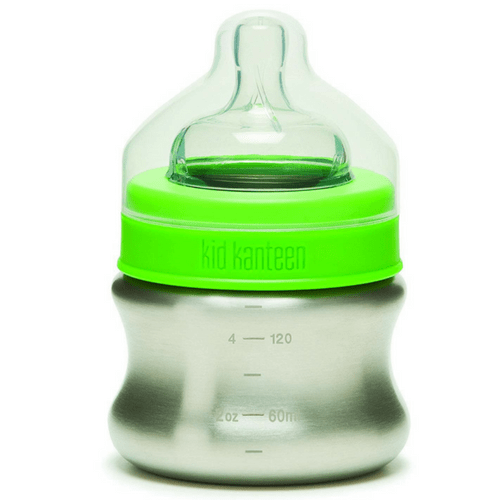 Klean Kanteen Steel Feeding Bottle
Our Rating: ★★★☆☆
Price: $$
The Klean Kanteen Kid Kanteen metal baby bottle is a little less expensive than some of the others on the list, but much like the think baby, it's not 100% plastic free.
The bottle is made of stainless steel and the nipple is medical grade silicone, but the nipple attachment part is made of plastic.
This is the 5oz size, and it comes with a slow flow nipple, making it ideal for babies under 6 months.
The shape makes this bottle easier to hold for most babies than the other bottles on this list, and heats quickly in a bottle warmer or even just a cup of hot water.
This bottle is a bit wide, and some moms have complained that it doesn't fit easily in diaper bag pockets like thinner bottles.
It also doesn't convert into a sippy cup like the Pura kiki or thinkbaby, so it's lifetime use is limited.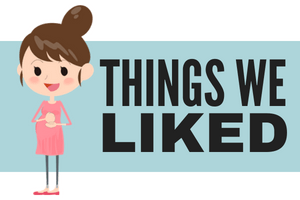 Easy for baby to hold
Slow flow nipple, great for newborns
Heats up quickly
Less expensive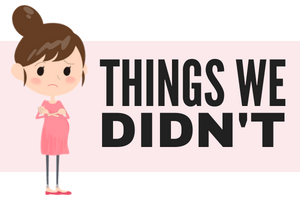 Doesn't convert to toddler cup
Doesn't fit easily in diaper bag pockets
---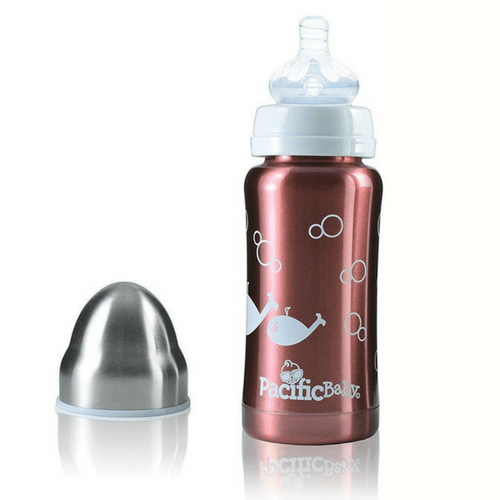 Pacific Baby Hot-Tot Insulated Metal Baby Bottle Review
Our Rating: ★★★★☆
Price: $$
The Pacific baby bottle is definitely the most adorable metal bottle on this list. It also makes a great insulated baby bottle.
It holds 7oz of fluid and will keep milk warm up to 10 hours.
That's perfect for an overnight feed so you don't have to get up and warm the milk in the middle of the night, or when you're on the go.
This bottle features cute designs, this one with little whales, and an anti-colic nipple, for less gassiness and spitting up. But it doesn't convert into a sippy cup.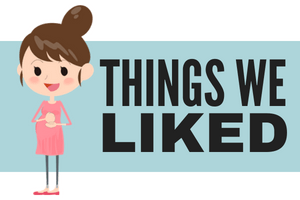 Cute design
Keeps milk warm for 10 hours
Anti colic nipple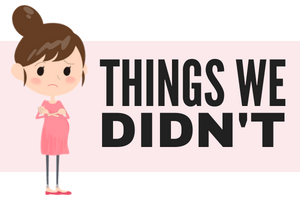 Doesn't convert from baby bottle to toddler cup
---
So Which One Is the Best Stainless Steel Baby Bottle?
The Pura Kiki wins our technical vote as one of the best stainless steel baby bottles.
However, realistically, we'd probably be more inclined to purchase the thinkbaby stainless steel bottle.
Reason being, most families simply won't be able to afford a half dozen bottles while fronting all the other costs of having a new baby.
The thinkbaby is almost half the price, and gets the job done. Plus, it will convert into a toddler cup and a big kid travel cup!
Making it even more cost friendly and sustainable.