10 Sweet Baby Shower Gifts That Mom Will Actually Use!
Trying to find the right baby shower gift can really put the pressure on.
Afterall, you want to make life easier for the mom and dad to be. But secretly you also hope that you'll the one that brings *that* gift.
The one that mom just gushes over and you can just see it in her eyes that she is absolutely in love with the gift you picked out!
I get it. I can be really hard to pick out the right one! But we found a few of the cutest, yet still totally functional, baby shower gifts that will leave mom thrilled!
Sweet (but functional) Baby Shower Gifts
We know it's tempting to just buy the cutest baby items, but make sure to grab something the future parents will actually use. These gifts are the perfect blend of cute, but functional!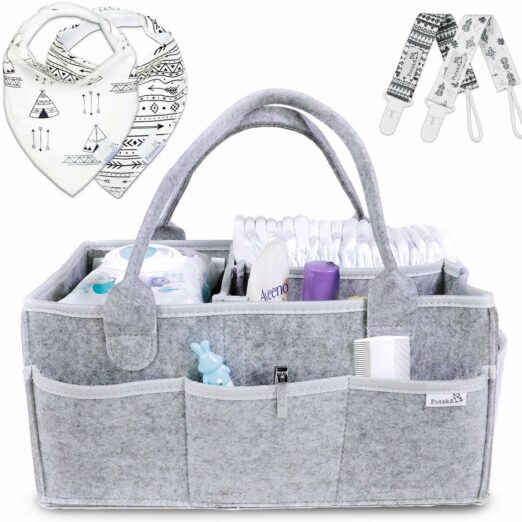 Made with high-quality felt, this portable organizer caddy is soft enough for baby but strong enough to hold all of your essentials. It is not only very functional. But also super cute.
The stiff walls will also make it really easy for mom to readily find all the baby items she needs quickly. Plus its very affordable!
Grab the Baby Gear Organizer here.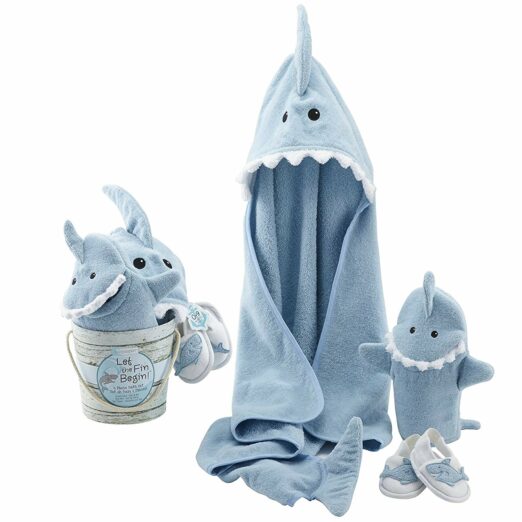 Delight the new parents with this trendy hooded towel and bath set for the new baby. Ideal as a baby shower gift for young parents who totally understand the baby shark craze.
Plus, there are very few things mom and dad will find more adorable than their baby cozied up as a tiny shark fresh out of the bath!
You can grab the baby shark towel set here.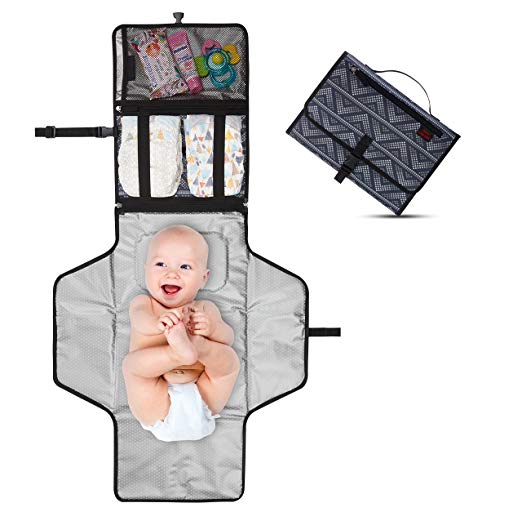 I have one of these, and they are super useful! It was actually a baby shower gift for me and I had never even heard of one of these before.
But this thing has been a lifesaver on multiple occasions. Nothing worse than being somewhere with no clean surface to change your baby's diaper.
Plus it holds everything they'll need in an organized small little fold up pouch that makes everything so stinkin easy!
Check out the Travel Baby Diapering Station here.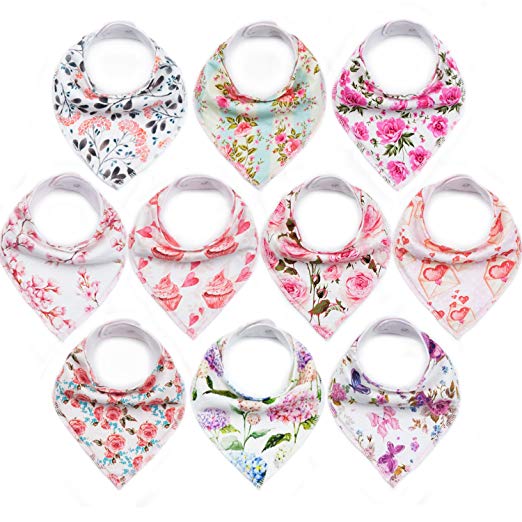 Seriously, these things are so stinkin cute! They strike the perfect balance between cute baby shower gift and functional baby shower gift.
These little bibs make the baby ooze with cuteness at every meal!
They also look great for baby photo shoots.
The best part, these bibs are super affordable but feel and look pricy. Seriously, any baby clothing with the word "100% Organic" feel like they should cost and arm and a leg.
Check out these trendy little Organic cotton Bandana bibs.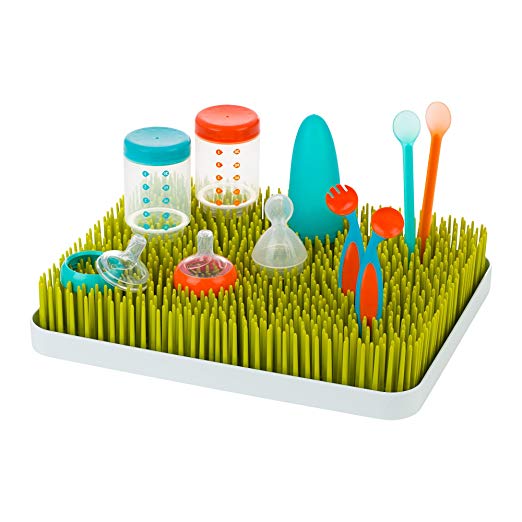 If you've ever had to deal with baby bottles, you know that there is a ton of washing and drying involved.
This little drying rack is not only insanely cute, it is so functional! It holds all those tiny pieces in place. (The other drying racks I've had all the tiny pieces fall through the cracks. Or end up staying wet at the bottom of a bowl.)
Plus they'll easily get years of use out of this thing with all the sippy cups and toddler dishware!
Check out the Boon Lawn Drying Rack here.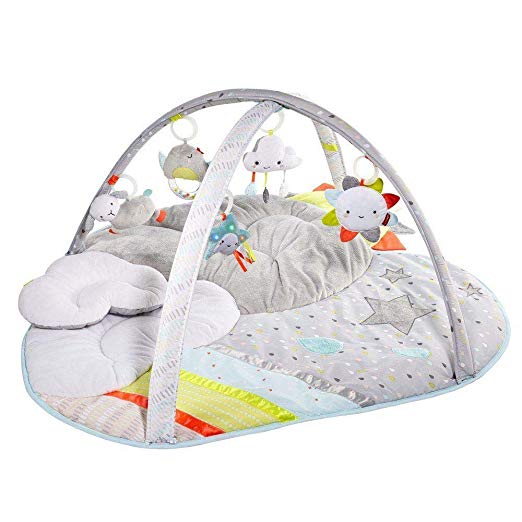 What baby doesn't want to roll around in an activity gym surrounded by soft neutral clouds and pops of bright color?!
This activity gym includes everything baby needs for playtime on their back and tummy while keeping them occupied and entertained with all the adorable objects.
Check out the adorable play mat here.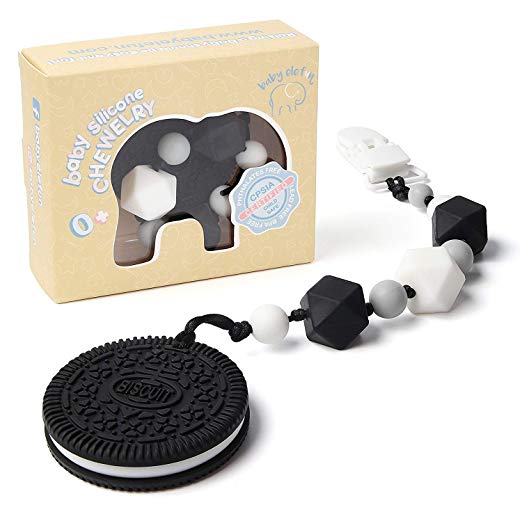 Adorable and silly, this silicone cookie teether provides a soft toy to teeth on for baby and a laugh for parents.
Check out the Cookie Teether here.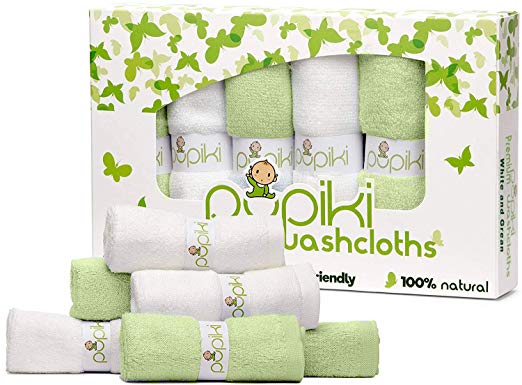 That soft baby skin is so incredibly delicate, making these ultra-soft bamboo washcloths the perfect baby shower gift!
They're even hypoallergenic. So no upsetting mystery rashes.
You can check out the Bamboo baby washcloths here.
Gone are the days when parents had to wait an entire minute for those tell-tale thermometer beeps.
Be the hit of the baby shower with a forehead thermometer that doesn't even require contact.
Check out the non-contact baby thermometer here.
Newborn babies love the feeling of a snug swaddle. Plus they help baby sleep longer, which the parents will love! And these ones are so cute. Making them the perfect baby shower gift.
Check out these stylish Swaddle blankets.